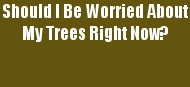 During these trying days, every family in the Bay Area is taking stock and performing a kind of triage as to what really matters right now for the health and safety of ourselves and our loved ones. Of course, the aesthetic concerns of our gardens are just going to have to wait, but if you have important questions or pressing concerns about the health, or even more importantly the safety of any or all of your trees, you should not hesitate to reach out to me and let me have a look. 

While I must charge for site visits, you should feel free to send images of trees, or parts of trees, that are troubling you. You might be surprised how often what might seem concerning to the untrained eye can easily be dismissed by a little bit of knowledge and experience; and if the issue does seem like something that warrants further follow up, we can discuss a site visit, a phone conversation, or even a video conference. 

Yes, even when it seems the whole world has more pressing matters to attend to, I have in the past few weeks identified tree hazards that can not wait! If you're at home with time on your hands, and a nagging little tree problem in the back of your mind…let's have a look!

Contact me at the link below, and hang in there!